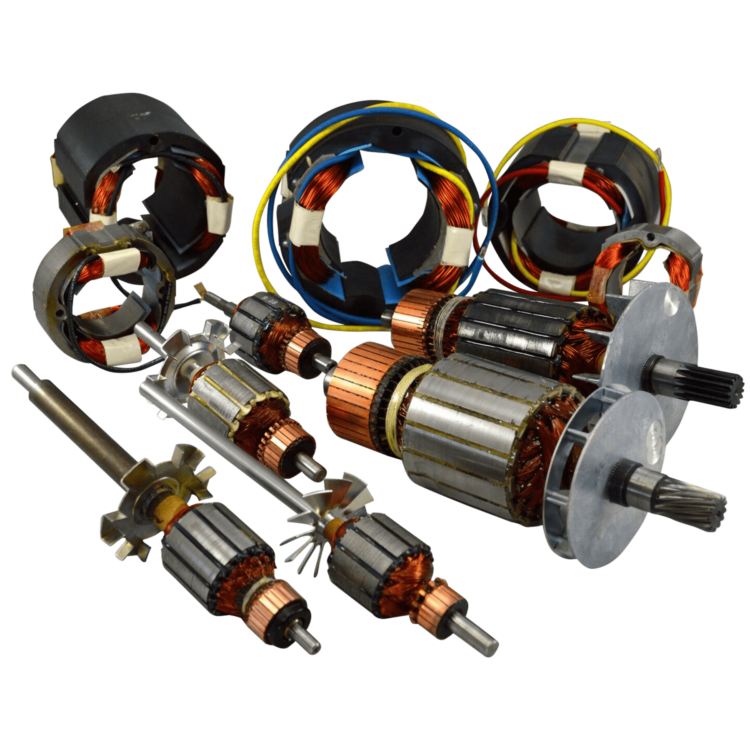 Product Overview
MSI's Armatures & Fields are available as a set or individual components customized to your design, or with Motor Specialty standard laminations.
Quick Specs
Lamination
Type: B, DW, D, E, K, PQ, TS, R
Cord or Leads
Lead wire, standard or customizable connectors
Rotation
C.W., C.C.W., Reversible
Shaft Diameter
.250 up to .750
Shaft Extension
Single or double
Ventilation
Fan cooled available
Horsepower Range
Up to 2 HP
Features
Precision machined splined, straight and geared shafts
Class A insulation (105°C)
Bondable field magnet wire
100% quality tested
Computer balanced armatures
Benefits
Standard design and customized motor parts help reduced design, prototype and production challenges. Let MSI be your motor partner, with over 70 years of experience our team can help you get to market fast.
Applications
Pipe threader
Drain cleaning equipment
Home comfort devices
Electric hoist
Industrial blower assembly
Hydraulic pump
Industrial vacuum/Blower
Hand held disc grinder
Radial arm saw
Industrial vacuum cleaner
Post tool grinder
Insulation blower assembly
Man hole ventilator system
Centrifuge