What is a DC (Direct Current) Motor? A DC motor is any class of rotary electrical motors that converts direct current electrical energy into mechanical energy.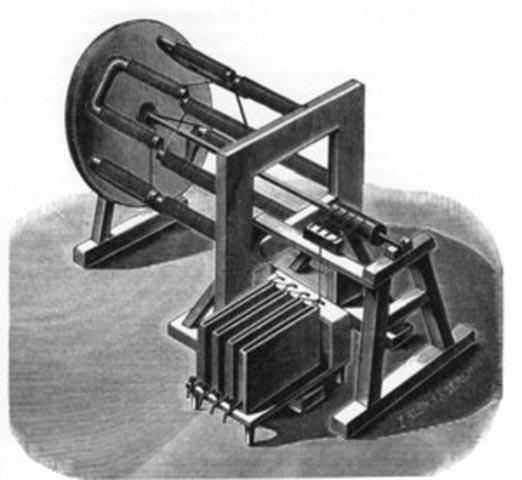 The history of DC motors goes as far back as the 19th century. In 1832, a British scientist, William Sturgeon, created the first DC motor that had the ability to power machinery.
Sturgeon's initial development was further expanded upon by an American scientist, Thomas Davenport. Davenport is known for creating the first working DC motor, which he patented in 1837. However, Davenport ran into some issues with the cost of battery power while the motors were running. This made the motors ineffective to stand up over time.
After the initial invention, created by Davenport, many other inventors began developing concepts. In 1834, Moritz von Jacobi, a Russian engineer, invented the first rotating DC motor. Jacobi's motor became well known for its power, which would later set a world record. Jacobi went on to create an even more powerful motor, thus breaking his own record for power in 1838. The invention of this motor, by Jacobi, went on to further inspire others to expand and produce more DC motors of the same power.
Antonio Pacinotti made a breakthrough in 1864 with the development of the ring armature. This piece has become crucial in the design of the DC motor; the ring armature carries the current through the grouped coils.
Even with all of the developments throughout the 19th century, possibly the most important came in 1886. An inventor named Julian Sprague invented a DC motor that was capable of maintaining a constant speed under variable loads. Sprague's invention would lead to the commercial use of the DC motor. This would include early variations of the electric elevator and electric trolleys. These developments led to high demand of the motors, for both commercial & residential usage.
Today, DC motors are widely used in many industries, such as healthcare, food service and many industrial settings. The use of DC motors has made industry work far more efficient, with machines able to function with a dependable source of power and speed. DC motors have made many other industries far easier to function in their day to day faculties, by taking a lot of manual power off of humans or animals, and replacing it with motorized equipment.
Many of us wouldn't know how to function in our everyday lives without DC motors. From dishwashers, to blenders, to medical equipment at the doctor's office, many of us don't know just how ingrained DC motors are in our everyday life. We help provide the motors that you need for the equipment that you use or manufacture.
If you are having any issues with your machinery or your current DC motor provider, please contact our experts today at Motor Specialty!